Dental crowns are often recommended to patients whose teeth are cracked, broken, or decayed beyond what a simple composite filling could repair. They are made of high strength ceramic and porcelain materials, and designed to align with your natural bite. We can improve the natural function and appearance of your smile for long-term results.
For more than 20 years, Annapolis dentist Dr. Vernon Sheen has been using dental crowns to strengthen and recreate the natural beauty of patients' smiles. Dr. Sheen is one of the few dentists in Annapolis to also offer same day dental crowns, thanks to advanced CEREC technology.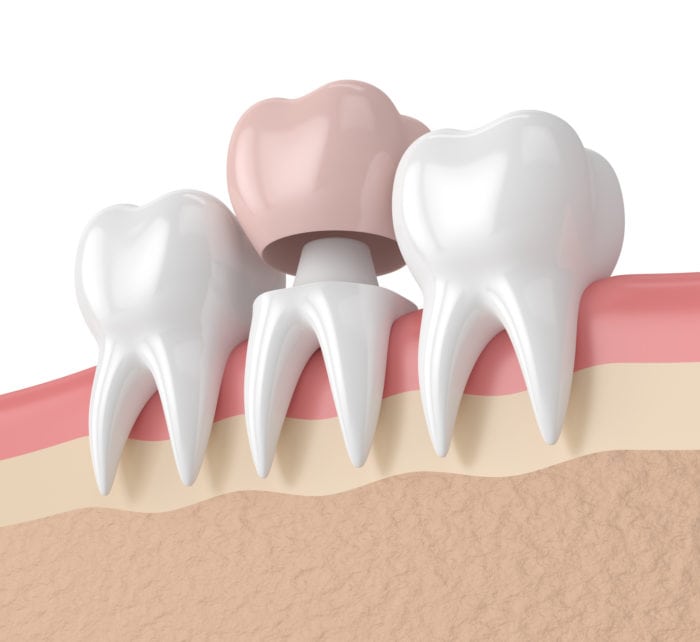 Dental Crowns in Annapolis
Dental crowns are placed on top of root canals or dental implants, and permanently bonded to the remaining base structure of a natural tooth. These durable ceramic caps are custom created for each individual patient, and won't stain or deteriorate like natural teeth. Learn more about the dental implant procedure or call our office if you have any questions about dental implants.
While dental crown procedures can take two or three office visits in most dental offices, Dr. Sheen offers the option of same day dental crowns for select patients. Using advanced CAD/CAM technology, Dr. Sheen can design, fabricate and place a dental crown in a single visit.
Properly fitted and maintained dental crowns last upwards of 25 years, and are a great treatment option for patients who want both a functionally strong and natural looking smile.
How Can Dental Crowns Support Your Best Smile?
Dental crowns are made of a stain resistant durable material that can last upwards of twenty five years. Dental crowns can be used to support the structure of your natural tooth, or to replace a missing tooth. A dental crown can be permanently secured over a root canal or a dental implant for a life like tooth restoration.
Dental crowns can help to treat:
Cracked Teeth
Misshapen Teeth
Severe Tooth Decay
Missing Teeth
Weak Teeth
Dental crowns are a cap that look and feel like a real tooth. Crowns are constructed of professional grade ceramic. This material reflects light like natural teeth. Dr. Sheen can also color match your restoration to match the color of your natural teeth helping your new tooth blend in seamlessly.
Dr. Sheen uses the most modern in dental materials and technology to produce well-fitted dental restorations. Our Annapolis, MD dentist office is equipped with CEREC computer software technology that allows for single visit restorations. The CEREC technology allows our dental care team to skip sending your restoration to a lab.
This decreases cost and wait time for our patients. CEREC technology produces highly accurate and custom fit dental crowns and restorations. Benefits of dental crowns include:
Durable
Comfortable
Life Like
Stain Resistant
Plaque Resistant
Supports Oral Health
Dental Crowns FAQs
How fast can I get a dental crown?
Modern-day dental crowns can be fabricated in as little as two hours. We offer same-day crowns using CEREC technology, and can be placed in a single visit. Traditional dental crowns can be fabricated and placed in about two weeks.
Do I always need a dental crown after a root canal?
Yes, all root canal procedures should include the placement of a dental crown. Without reinforcement, your tooth's structure becomes very susceptible to further decay, fractures, hot and cold sensitivity, and tooth damage. It is important to cap your tooth after root canal treatment for maximum protection.
Can a broken dental crown be repaired?
In some cases, yes. Although we highly recommend replacing the crown completely. This will ensure that your crown's structure is not compromised and no cavities and infections occur under the damaged crown.
Can an old dental crown be whitened?
No. Traditional teeth whitening can not effectively whiten a dental crown of any kind. You are actually better-off replacing the crown instead of spending the money to try and whiten it. Replacing a dental crown is more effective and provides many benefits as mentioned above.
Visit Our Annapolis Dental Office
Dental crowns can help restore your oral health and confidence so you can enjoy your smile for years to come. For more information on dental crowns or to schedule an appointment, contact the Annapolis dental office of Dr. Sheen today. Call (443) 482- 5202 or schedule an appointment online.